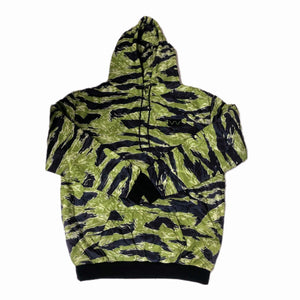 Tigerstripe is the name of a group of camouflage patterns developed for close-range use in dense jungle during jungle warfare by the South Vietnamese Armed Forces and adopted in late 1962 to early 1963 by US Special Forces during the Vietnam War. During and after the Vietnam War, the pattern was adopted by several other Asian countries. It derives its name from its resemblance to a tiger's stripes and were simply called "tigers." 
Woobie Brothers Apparel hoodies are built from the military poncho liner and turned in a Woobie Hoodie. Originally fielded in Vietnam to special forces soldiers, it was quickly adapted to regular Army units shortly thereafter.

The poncho liner was nicknamed "The Woobie" sometime during the 1980's because it was said that you would be cold without it. 

For those who served, the poncho liner AKA "The Woobie", is held in high regard. Easily packable, light, and useful for many applications, many service members will opt to keep their Woobie upon discharge.

For each Woobie Brothers Apparel item sold, a portion of the proceeds will go to helping homeless veterans.

To all our past and future customers, thanks for supporting America and homeless veterans!